Ukkohalla rocking the big screen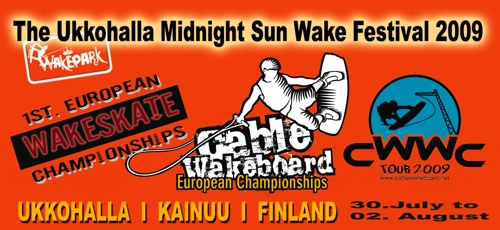 The upcoming Ukkohalla Midnight Sun Wake Festival will feature live coverage from 8 cameras delivering the finest selection of Cable Wakeboarding from Finland.
We are eagerly looking forward to see amazing pictures from 3 big events that weekend. The European Championships for Cable Wakeboard and Wakeskate together with the 2nd CWWC Tour Stop will challenge the world's best Wakeboarders and Wakeskaters to prove how captivating and intoxicating this sport is. Not only boardsport fans will be fascinated by its appeal on screen.
Already the Europeans 2008 attracted millions to follow the live broadcast from Sukay Park in Bursa, Turkey.
Like last year the resigned Australian Pro Wakeboarder Clint Liddy will accompany the boarders and skaters on his mic which ensures competent top notch moderation.
More than 25 specialists will be on location to support the TV production. To make sure everything is delivered in real time a special connection to a transmission tower 1.5km off is set up. A sophisticated concept makes it possible to choose from 8 cameras to get the best shots on air and the huge video wall will entertain the fans on location. Both the audience at site and at home won't miss a detail and can look forward to amazing slow motions, informative rider profiles and live results on screen. Highlight shows from the qualifications and the youngsters will complete the picture for everyone.
An event like this requires a lot of manpower. Many platforms need to be installed on the water, hundreds of cable connections have to be made and a large amount of technology needs to be set up. Without the help of many volunteers and the council member of the IWSF an event on this level wouldn't be possible, according to press representative Andreas Boes from the accompanying agency ID+MA.
We are lucky to work together with the Ski- and Wakeresort's professional management in Ukkohalla. Due to the thousands of tourists every year the Ukkohalla crew is well prepared to host and manage big professional events. For example more than 10.000 sport enthusiasts travel each year to this fantastic resort to celebrate the official Swamp Soccer World Championships. Whether you are coming during winter to snowboard or for their short summer season to wakeboard, Ukohalla's hospitality guarantees pleased visitors and lots of frequent guests.
By the way, it's certain that there will be live coverage from the CWWC Tour Final in Bursa, Turkey too. After all, the world should know who is going for the
big prize money of 120.000 US Dollar
at this final stop.