Midnight Sun Wakefestival
From July 30th to 2nd of August riders from around the world are invited to fight for cash, fame and glory as well as for important world ranking points.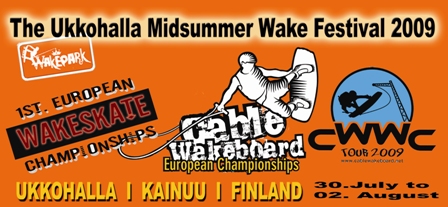 A weekend featuring 3 top notch events promises loads of adrenaline.
Clint Liddy, unquestioned "The Voice" of Wakeboarding in Europe, stands for high quality entertainment on the mic and will be moderating the event as well as the livestream.
As part of the Midnight Sun Wake Festival the CWWC Tour Stop will be open to all Riders from around the world - all three Regions (PANAM, AA and EAME) will have the chance to fight for a cashprize and ranking points.
A not yet specified prizemoney will be awarded for the winner of this CWWC Tour Stop and the chance to get even more money out of the overall tour scoring. The tour will cover three stops in 2009, beginning in Belgrade, Serbia on the 20th of July. Then all Rider come together in Finland for the second stop in Ukkohalla and the final Stop will be held in Bursa, Turkey from 2nd to 4th of October. This is where the overall tour winner and the best ranked rider from the CWWC World Ranking will be rewarded with a certain cashprize.
Ranking points for the CWWC World Ranking can be earned at all of the CWWC Tour Stops, the national championships and other registered international events.
From this season the CWWC World Ranking Points gain more and more importance for Riders as it is getting popular around sponsors to keep an eye on these.
You will find all necessary information, the current ranking and the official calender on cablewakeboard.net.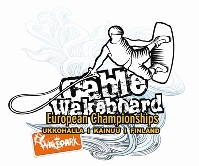 For the first time, the ever growing Wakeskate Scene needs to organize for their very fist European Championships.
We are really looking forward to see how many nations will send their best Wakeskater to Finnland to represent the growing sport of wakeskating.
Fans and Boarders from around the world will have their fun watching this technical challenging sport performed by the best of Europe's Wakeskate virtuosi.
It's up to you now, Skater from the EAME, to get together and represent your sport to the world!
Europe's Cablewakeboarding elite will be challenged to keep their nerves, like they did in Bursa 2008.
Many will remember Maxines ride for gold or Mike's and Nick's never ending battle from last year's livestream.
No matter what side you're at We expect Ukkohalla to be a memorable happening. Beside the Midnight Sun Wake Festival and the fact that we can enjoy midsummer in Finland, Ukkohalla is worth a visit. During Winter it is one of the most beautiful snowparks in Europe and in the summertime its breathtaking scenery makes it an enjoyable place.
Find the Bulletin over here
Press contact
Cablewakeboard.net
ID+MA GmbH & Co KG
Im Blankenfeld2
46238 Bottrop, Germany
Tel. +49 (0)2041 7825770
Fax +49 (0)2041 7825731
a.boes@id-ma.com
Press Downloads
Organising Federation : IWSF ( International Waterski Federation)
Executive organizer: CWWC ( Cable Wakeboard World Council) & ECWC ( European Cablewakeboard Council )