Antalya Winterpackage & special offer
Getting bored of going to the Phillipines each year? Still searching for a nice location to spent some time during off-season for wakeboarding? The
Hip-Notics cablepark in Antalya, Turkey
has some special offers for you...
Located in the south of Turkey with warm temperatures all year long the park consists of 3 cableways, OBSTIXX obstacles, Appartments, a Bar, a Restaurant and an awesome sound system around the cable...check out Hip-Notics.com for more Info!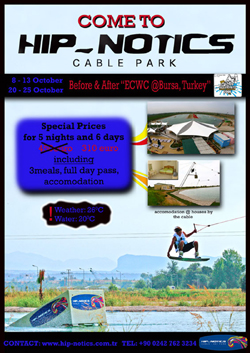 If you are coming to the European Championships you should think about starting your trip earlier or staying in Turkey for another week or two...Before and after the Europeans in Bursa the guys from Hip-Notics cablepark offer the riders another special package, have a look: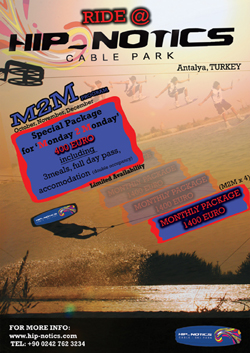 Guess who is one of the first guys exploring this new cablepark - Daniel "Fetzy" Fetz is coming to Antalya right before the European Championships and invites you to join. Get more details on this event on here on Facebook...