50 Years Rixen Cableways - Cableski and Cablewakeboard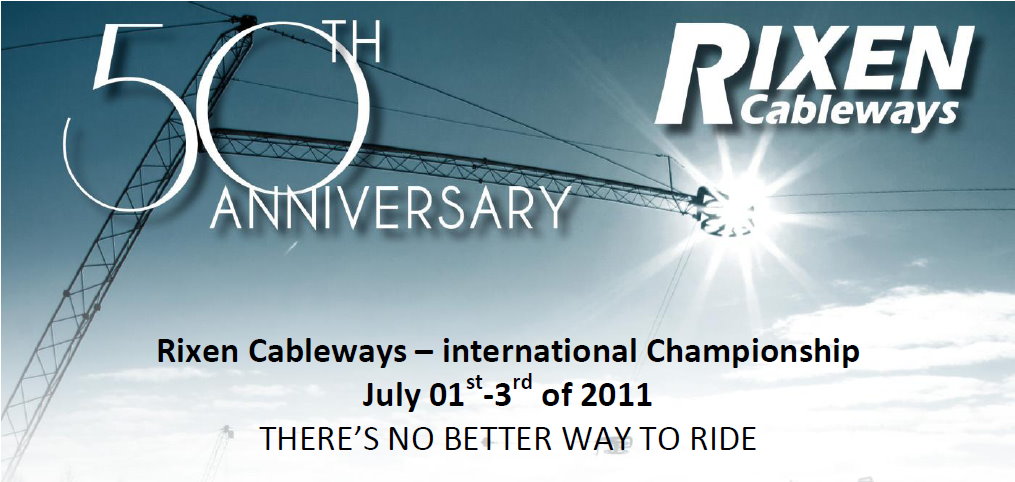 50th Anniversary Rixen Cableways –international Championship
Date:
July 1st till 3rd of 2011
Cable/Location:
Aschheim/ Germany

Download Startlists: here

Download Results: here
The championship will only be a wakeboard contest. It will feature 10.000 Euro cash prize, 3000 Euro Open Men 1st place and 1000 Euro Open Ladies 1st place. The competition will be open to every rider from around the world, but the numbers of participants are limited. First come, first serve. Additionally it will feature a waterskishow and a meet and greet with Mr. Rixen.


Download Bulletin V1: here

Download Bulletin V2: here
Download Schedule V1:
here


Download Heatsystem V1:
here
Final Results
Open Men Final
Position
Name
Score
Nationality

---

1
Dominik G¸hrs[94]
87.33
GER
2
FrÈdÈric von Osten[68]
86.00
GER
3
Mike Ketellapper
80.67
NED

---

4
Steffen Vollert[54]
73.00
GER
5
Rocco van Straten[62]
70.67
NED
6
Daniel Fetz[56]
66.00
AUT
7
Fabian Ortler[52]
44.33
AUT
8
Alon Ferber[58]
19.33
ISR

---

9
Bence Bodnar
HUN
9
Stefan Lebwohl[71]
AUT
9
Emilio Epstein[98]
AUT
9
Mike Ruttkowski[51]
GER
13
Wolfram Wagner[96]
GER
13
Nick Hunting[92]
NED
13
Milan Csontos
HUN
13
Jamie Smith[28]
GBR
17
Robert Pokovec[77]
SLO
17
Laszlo Papp[100]
HUN
17
Hermann Emmer[55]
AUT
17
Rene Konrad[60]
GER
21
Daniel Wehmann[67]
GER
21
Yury Pashinin[75]
RUS
Open Ladies Final
Position
Name
Score
Nationality

---

1
Maxine Sapulette[38]
96.33
NED
2
Angelika Schriber[66]
63.67
AUS
3
Denise de Haan[12]
56.00
NED
4
Sophia Marie Reimers[13]
35.33
GER
5
Astrid Schabransky[47]
27.67
AUT
6
Pauline Dyrschka[15]
22.33
GER

---

7
Cosima Giemza[37]
GER
8
Kathrin Ogretici[24]
GER
9
Ginger Pfennings[74]
GER
10
Beatrice Macek[14]
GER
Junior Men Final
Position
Name
Score
Nationality

---

1
James Windsor[27]
74.37
AUS
2
Declan Clifford[76]
73.67
GBR
3
Miles Tˆller[30]
70.33
GER

---

4
Niko Kasper[11]
53.33
GER
5
Michael Nieuwerf[42]
49.00
NED
6
Christopher Klein
46.00
GER
7
Benedek Kis
39.67
HUN
8
Ethan Agius[70]
31.67
AUS
9
Tom Schneorson
ISR
9
Devi Sentrop[29]
NED
9
Guy Firrer[42]
ISR
9
Nick Lutkat[64]
GER
13
Igor Kobtzev[73]
ISR
13
Yves van der Hoff[99]
NED
13
Ariano Blanik[26]
GER
13
Philipp Turba[53]
AUT
17
Wojciech Pruszak-Leliwa[16]
POL
17
Adrian Abeck[93]
GER
17
Felix Schneider[57]
GER
17
Dan Perets[45]
ISR
21
Marcel Friedrich[22]
GER
21
Lior Sendik[35]
ISR
21
Antoni Wekken[17]
NED
Junior Ladies Final
Position
Name
Score
Nationality

---

1
Petra Kˆrmendi[36]
59.33
HUN
2
Anne Freyer[25]
57.67
GER
3
Vanessa Weinhauer[23]
53.33
GER

---

4
Chantal Noack[21]
32.67
GER
5
Agnes Erzse[18]
28.00
HUN
6
Sophia Wassenegger[31]
18.33
GER